Pit Bull Education Month with Hamilton Humane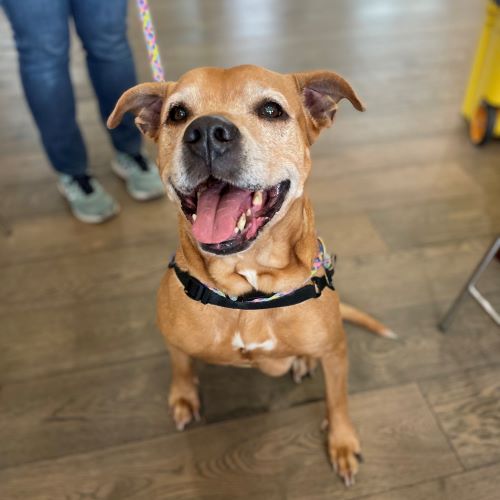 As a proud sponsor of the Humane Society for Hamilton County, we were thrilled to be a part of their Pit Bull Education Month this year. HSHC is a shelter that does not discriminate against Pit Bulls (or other breeds) and neither do we! At J.C. Hart, we try to be as pet inclusive as possible with no breed restrictions and limited weight restrictions at certain communities. We know temperament and actions are not breed specific, but owner and dog specific.
This year, J.C. Hart hosted a Pittie Pop-Up event on March 23rd at one of our Carmel communities, Lakeside Apartments of Carmel. We invited our Hamilton County Residents to join us for snacks, education, and potential adoptions. Hollywood Feed in Hamilton County provided goodie bags for current pet owners that included: a plush toy, treats, wipes, and skin/coat drops. The two-hour event had a representative from HSHC who talked about fact vs. fiction of Pit Bulls, collected donations, and helped people find a potential pet they wanted to adopt at the shelter. There was even an adoptable Pittie, Mrs. Nala, present for everyone to interact with and see the true nature of a Pit Bull. For being 10 years old, she had some spunk and was so affectionate! Everyone who attended gave her so much love and we hope she enjoyed those few hours outside the shelter. As of this posting, she is still up for adoption!
Thank you to everyone who joined us at our Pittie Pop-Up! We hope you continue to learn about this breed to end the discrimination they face and maybe even adopt a Pittie of your own! If you have any questions regarding Pit Bulls or want to learn more about current animals up for adoption, please visit the
HSHC website
for more information.