Million Meal Movement - March Madness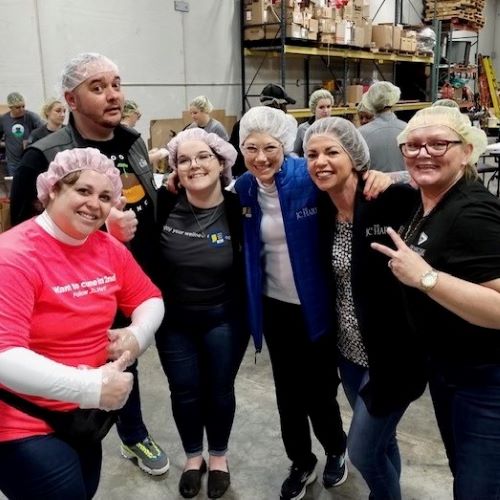 Several J.C. Hart Associates teamed up to participate in
Million Meal Movement's
inaugural
"March Madness" tournament
, where they asked companies to volunteer to pack meals for hungry Hoosiers, but in a competitive fashion. Nine companies competed in a single elimination bracket style contest to see who could pack a box of 36 meals the fastest. Many thanks to
Christopher Clark, Tammy Page, Julie McHale, Michelle Norman, Abby Wilkinson, Matty Jacobs, Jane Gosling, Diana Eichman
&
Tracie Kraft
who gave it their best effort, even though they followed the likes of Purdue and went out in the first round. However, with their competitive juices flowing, and their Core Values of
Passion
and
Teamwork
evident, when the
Carmax
team was short-handed,
Julie, Michelle, Abby, Matty, Diana, Tracie,
and
Jane
stepped up to lend a hand and helped Carmax win their first competition, only to lose in their second round (like Indiana) to the eventual overall winners, Ace Hardware. Were we team Car-Hart? Team JC-Max? We couldn't quite decide, but we definitely felt like winners in the end, knowing we had helped supply some eventual hot meals to fellow Hoosiers in need. We are already looking forward to the Million Meal Movement's fall Marathon food packing event and next year's March Madness tournament, so we can up our game, earn some bragging rights, and bring home the winners' trophy.