J.C. Hart Shining Star Awards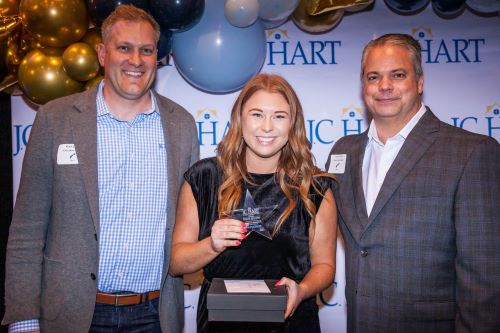 At J.C. Hart Company, we love to celebrate our Associates.
Twice a year, the company gathers for our Shining Stars event to celebrate quarterly and annual accomplishments. We hold these events to recognize extraordinary achievements, and to spend some time connecting with Associates from other teams that we don't often get to see. After our Event Planning Team finishes decorating, we enjoy a cocktail hour before heading into the award ceremony and dinner. For some, this is a chance to meet new people and become familiar with the stories that prelude the winners.
For instance, our recent Core Value (Innovation) Award Winner, Randi Ireland;
This Innovator doesn't take the term "sense of community" lightly. Partnering with local businesses to provide next-level Resident experiences and being a leader in her property's neighborhood association are just some of the ways this Associate embodies Innovation. It's not uncommon to see a group of Residents alongside this Associate doing a neighborhood clean-up on social media. This Associate is constantly finding new ways to learn about social media and marketing trends by seeking out local influencers and educators. She's won IAA's Assistant Manager of the Year and led the charge to bring home the win for IAA's Best Community Social Media Program.
"I was super excited and honored. It was an award that I had always wanted to win because it's the trait that I work the hardest on by trying to think of new ideas and ways of doing things," said Randi, Assistant Manager of Penrose on Mass.
These awards celebrate the efforts of individuals and teams, as well as serve an example for what we look in the way of Core Values in our team members. We recognize Associates in every type of position when they show excellence in Core Values and performance or when they hit a significant anniversary year with the company.
Our next Shining Stars event takes place in July, to celebrate the achievements of individuals and teams throughout the first and second quarter of 2022.