J.C. Hart Company Secures 2nd Broad Ripple Project, The Line Urban Flats on the Monon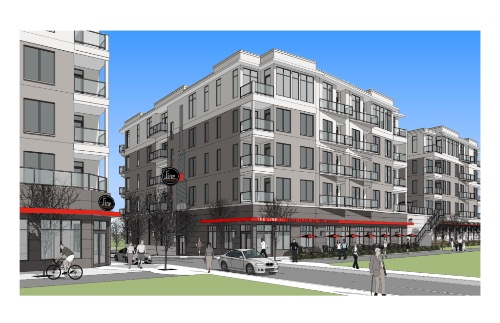 Well, we've got some exciting news to share! J.C. Hart has acquired the former Rogers Pool property on Westfield Boulevard along with an adjoining parcel on which they will construct our 2nd multifamily project in Broad Ripple to be named The Line – Urban Flats on the Monon.
The Rogers property has been owned by the Blickman family since opening Rogers Swimming Pools there in 1959. The family has joined forces with J.C. Hart Company in a joint venture, Hoosier Line, LLC, to build the project which will feature 130 studio, 1, & 2 bedroom flats, designed by the architectural firm, Weaver Sherman Design. An adjoining parcel, which will be part of the property, was purchased from Veritas Realty. Final design work and the closing of construction financing will allow demolition by the spring with construction beginning in early summer of 2017.
The name of the multifamily project, The Line – Urban Flats on the Monon, intentionally draws upon the history of the Monon Trail, at one time a railway used by the Monon Railroad and known as The Hoosier Line. The Line, located on Westfield Boulevard, north of Broad Ripple Avenue, will have uniquely spectacular views, fronting the Monon Trail to the west and with views of the White River to the east. There will be ground floor space available for lease for retail along the Monon Trail. J.C. Hart's first project in Broad Ripple is Park 66 Flats, located near the Indianapolis Arts Center at 66th and Ferguson, a single building consisting of 108 studio, 1, & 2 bedroom flats with a rooftop sundeck.
"We are honored to have been chosen to do a joint venture with the Blickman family to perpetuate their longstanding dedication to Broad Ripple, and we're thrilled to bring a unique, one-of-a-kind luxury community, a J. C. Hart standard, to this outstanding and visible location," said John Hart, President of J. C. Hart.
Michael Blickman, speaking on behalf of the Blickman family, said, "We are proud to be partnering with John Hart and his team. Rogers has been a fixture in the Indianapolis business community since 1922 when it was founded by my grandfather as Rogers Jewelers on the corner of Illinois and West Washington Streets. Our father, Sol, and his brother, Jerome, sold the jewelry company and then opened Rogers Swimming Pools in 1959. The Line represents a continuation of our involvement in and commitment to Broad Ripple, a vibrant crown jewel of our City."