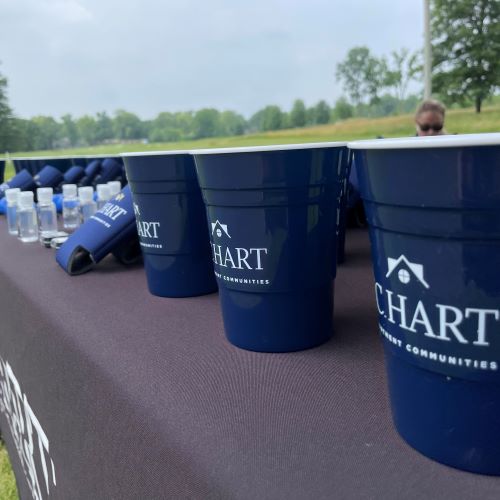 At J.C. Hart, we love supporting our local Chambers of Commerce by attending and sponsoring events. Sponsoring and advocating for our Chambers is a great way that we can help support the local businesses in our community.
Recently, we sponsored golfing outings for both Westfield, IN and Sylvania, OH. At the OneZone Westfield golf outing, we had team members greeting the golfers and handing out J.C. Hart swag when they arrived at our hole. Some of the most popular swag items included J.C. Hart koozies, microwave safe cups, mints, dog bags, and hand sanitizer. Both the Associates and golfers in attendance had a fantastic time at the event, despite the rain that unfortunately cut the day short. We also recently supported the 72nd Edward Jones Golf Outing in Sylvania, Ohio on behalf of SOMO Flats.
We are extremely grateful for all the time and effort that went into putting on these successful events! Thank you to all the Associates who stepped up to help: Jane Gosling, Shay Hoffman, Sandra Munoz, Sherri Cozart, Marissa France, MaKenzie Schooley, Hannah Mills, and Jenna Seward.